ART 8.100.000 Steel Hydraulic cutter
code:
8 100 000
- Cutting die machinery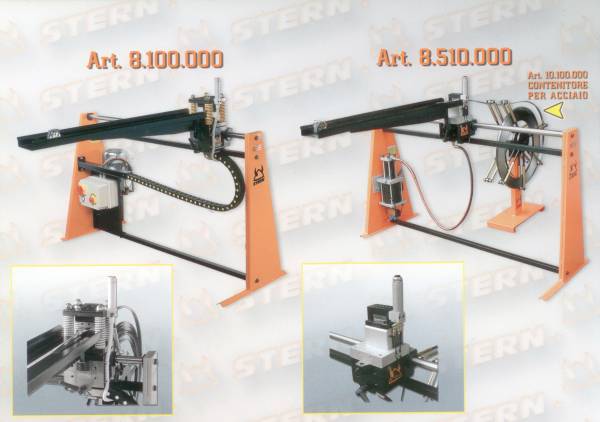 Hydraulic machine for cutting steel strips to obtain dies measuring max. 50x4 mm. The cutting unit assembled on balls recirculating sliding bushes can move along the bars connecting the machines sides and thus be placed in front of the steel container that has been chosen. As the bars standard length is 1,5 m it is possible to put six containers for twelve steel rollers in total in different sizes (different Lengths on request) behind the cuffer. The blades can be replaced and resharpened easily and the cutting operation is controlled by the push button located on the head of the machine. The machine has been built following a modularity concept, so that you can equip it with attachments at any time in the future such as a feeding or a rectifying device should you need to cut to size single or mass-produced pieces, that can be set by means of the keyboard or other peripheral units (art. 10.400.000).



TECHNICAL DATA:

Standard model size: L=1580; D=600; H=1120 mm.

Standard voltage: 380V, 50Hz, 3Ph.

Max installed power: 1,1 Kw.

Approximate weight: 115 Kg.