ART 18.306.000 Vertical hydraulic puncher
code:
18 306 000
- Cutting die machinery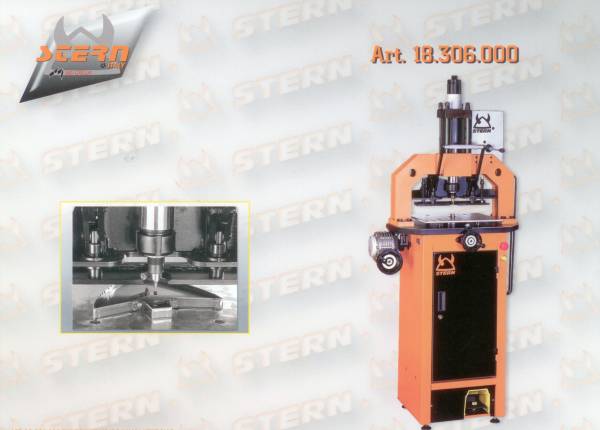 Hydraulic machine for perforation of the die´s internal plate with round or shaped punch in various forms. The matrix and the punch are regrindable and quickly replaceable and it is possible to position them to the machine axis at 0°, +45°, -45°, 90° at the operator´s option. A rapid dechucking system with blank holder lifting combined to a micrometric adjustement of the matrix projecting part from the face, allows lo make perforations without distinction and very quickly, either on the plate already welded inside the die and on the single plate. The small size of the toolholder and of the blank holder allows to make perforations very close to the die´s border, even on the already welded plate; The accuracy with which the machine is built allows to use very thin punches even on thicker plates (I.e. slot of 20x2 mm on plate 4 mm thick). The lever´s manual control allows to lower and lift the punch at a speed and pressure that allow to approach the plate without making the perforation, once the positioning has been made the pedal control gives the high pressure required for the perforation. The adjustement through the ring nut and counter nut located on the upper part allows to adjust the punch run. The machine turning off is automatic and timed. A wide range of different shapes and dimensions of punches and matrixes is available, with possibility of custom-made supplies.



Max. thrust on the punch 80000 N (8000 kg).

Motor power 1,5 kw (2 Hp).

Standard voltage 380V 3F 50Hz.

Dimensions: L=79 cm P=61 cm H=174cm.

Approximate weight 238 kg.